It is amazing to think that last year at this time we were in the final stages of the medboard waiting game. Stuck in the perpetual summer of Arizona unable to see the light at the end of the tunnel, knowing it must be there but not fully trusting that we would ever reach it. Every time someone back home posted pictures of apple picking, foliage, boots, sweaters it made my heart ache. Being so close to the end but still not sure what that would mean.
It was around this time last year that I started to give up. I was so tired of fighting. Fighting in every sense of the word. I was the only one trying to hold our family together as Will had made himself a nice home at the bottom of a Jack Daniels bottle with blinders on when it came to anything real.
But here we are. We made it, I don't know how but we are here.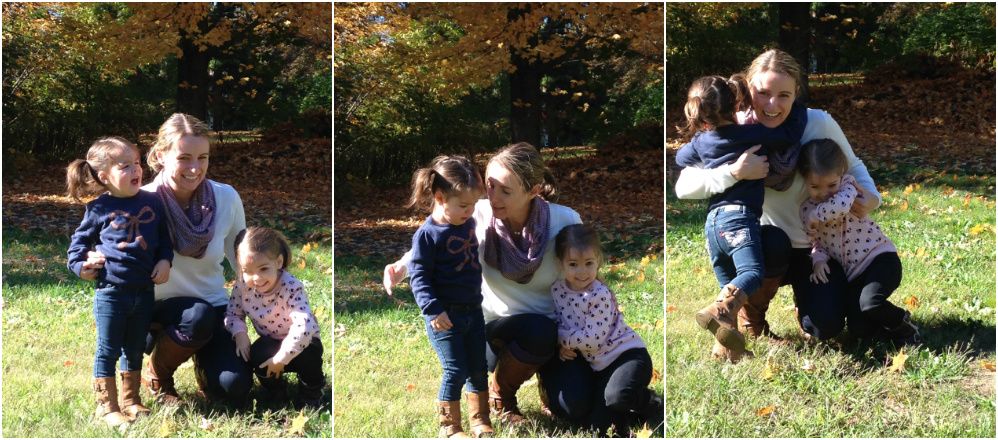 Nope, not happening.
Yesterday Will (who hasn't had JD in several months FYI) suggested we go to the outlets, it was a crisp bright fall day here in New England so an outdoor mall was perfect. We got the girls dressed in their fall sweaters and boots, like Momma, and Will said "we need to get a picture of the three of you." My husband who rolls his eyes when I suggest a picture! He then said, "wait until we are outside by the trees". The man who a year ago at this time wouldn't turn his xbox off long enough to even notice how the girls were dressed.
nope, not this time
We are far from perfect but we are fighting through. We both are fighting. I have a whole post stewing about teamwork so I will just say here that it is just so important.
And now a mini photodump of my ladies playing in the leaves for the first time in their little lives. I know my dad was watching them enjoy this perfect fall day from his perch in heaven.