I met with a trainer at the gym today, you know the initial meeting that comes with joining, and it was really good. I worked out before so I couldn't get the physical assessment but that's alright, I will get that done soon - I really have no desire to know my actual body fat percentage. When he asked my goals I told him my first was to run a half marathon in October but my overall goal is to just be fit, not "skinny fat".
I lost a pretty good amount of weight (30+ lbs) and I did it quickly, that is all great but just like when you throw on a size large t-shirt when you are now wearing a small it kind of just hangs there, that's how I feel about my skin. It may look alright in a few places but for the most part it's kind of slouchy, that is how I feel about some of my belly. I was 187 when I gave birth to TC, the biggest I've ever been and the most my skin has been stretched. Now I am 123 and there just isn't enough to fill everything out.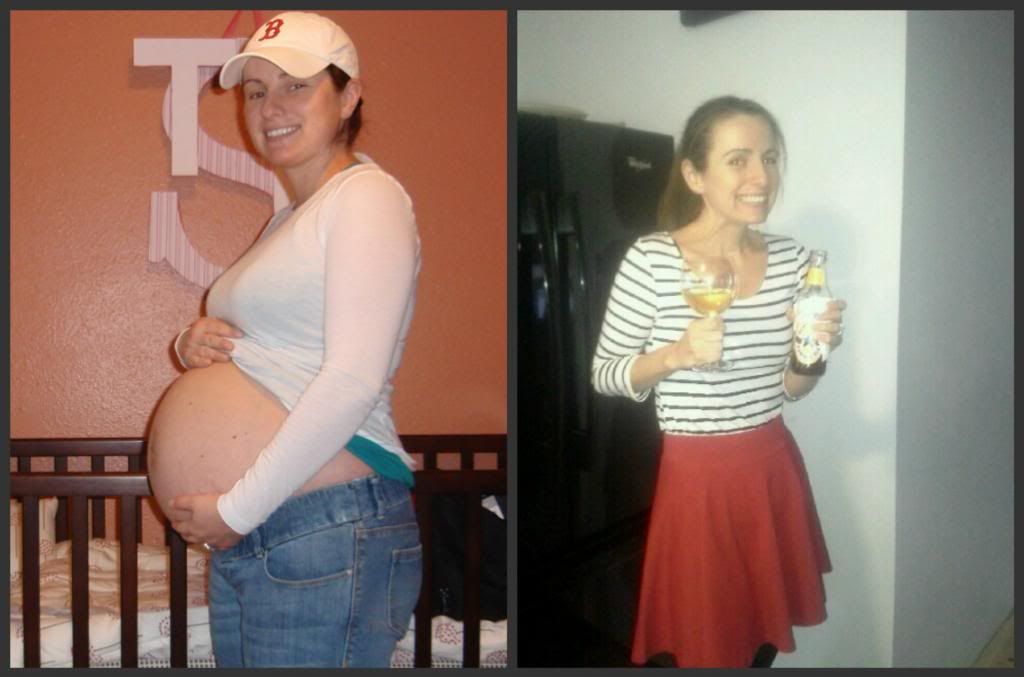 Around 39 weeks with TC and early December 2013.
In my clothes I look great, I feel great in them but out of my clothes...ugh. Once the weight was gone my stretchmarks became more obvious and discouraging. I compared my lower belly to corduroy when I bend over, it's loose with deep ridges, it makes me so sad. I'm 33 and the elastically oh my skin just isn't what it used to be and even if it did go all the way back there would still be the rigid stretch marks. I know, I know, I have 2 beautiful daughters to show for my "tiger stripe" (blah) - I am not saying i would give up my girls for a tight belly but I am still allowed to feel discouraged. After talking to the trainer I am feeling optimistic, I might not be able to deflate the skin but I can try to fill it with something else, like killer abs!
So my fitness goals are set, and attainable. I know I can do it, I just have to DO it like I did over the summer. Losing weight wasn't easy but it was simple - know what you have to do and actually do it. I love having this control, I have total control over what I put into and expect out of my body. I will make it strong, I will make it something to be proud of. I will be healthy for my daughters.
I will squat many, many times.